If you've decided to channel your chocolate passion into a home-based business, you'll want to stay apprised of changing trends in the chocolate market. For instance, be aware of new consumer flavor preferences, says Joan Steuer, owner of chocolate industry forecasting firm Chocolate Marketing. In addition, creative packaging ideas or tie-ins with other products will help you stand out. You'll also need to be vigilant monitoring other industries to identify trends that apply to the chocolate industry, Steuer says. With this knowledge, you'll be set to embark on starting your home business.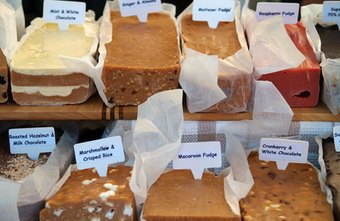 1. Organize your chocolate business. Meet with a certified public accountant experienced with home-based businesses. Determine the best business structure: sole proprietorship, limited liability company or corporation. Consult a commercial insurance agent about the proper policy for your homemade chocolate business. Visit your city or county clerk's office for a business license, and inquire about other necessary permits. Contact your state department of revenue for a sales tax license. If you're in the Greater Houston area, for instance, you can obtain two business startup packets issued by the city's One Stop Business Center. The packets include information on licenses, permits and other requirements for Houston-area businesses. View statewide requirements as well.
2. Finalize your product line. List your chocolate creations by variety and flavor. For example, you can produce chocolate, chocolate divinity and chocolate peanut butter fudge. If cakes are on the menu, create a well-rounded selection for different tastes. Finally, remember that chocolate devotees appreciate unconventional creations as well. Explore new product and flavor combinations with trusted family and friends.
3. Create a yearlong promotional plan. Spread out your calendar and identify dates that would be enhanced by fine chocolate products. Examples include Valentine's Day, Mother's Day and birthdays. Design a promotion for each event, and integrate all of your products into the overall plan. Explore a "Chocolate of the Month" promotion to create a regular customer base. Finally, widen your circle of contacts by holding chocolate tasting parties at friends' homes.
4. Purchase commercial chocolate-making equipment. Your volume production will be easier with mixing, cooking and cooling equipment that can handle you specific needs. Select the type of equipment to fit the scale of your operation (see Resources). If you want to limit your cash outlay, consider upgraded equipment now and purchase the rest when your production needs increase.
5. Obtain health department approval. Since you'll be making and selling products for public consumption, your local health department will likely need to approve your production facility's cleanliness and sanitation. Obtain information on local requirements, and schedule an inspection date. Thoroughly scrub your preparation area beforehand, and correct any discrepancies immediately.
6. Purchase your chocolate packaging supplies. Obtain quality cake and candy boxes for your chocolate confections. Explore quantity discounts by anticipating your packaging needs for all of your promotions. Include nonperishable chocolate-making supplies as well. If you plan to market your products in local retail outlets, order a selection of stands and display fixtures (see Resources).
7. Market a demonstration batch. Create and package two or three varieties of candy or fudge, and personally visit day spas and upscale beauty salons with samples and product for sale. Continue your "free sample" tour at professional offices and real estate agencies. Provide popular restaurants and delis with samples, and ask the owner or manager if the eatery will agree to carry your products.
8. Market through your chamber of commerce. Join the chamber and take advantage of the opportunities you'll receive as a member. For example, you can bring product samples to a member seminar or exhibit at an upcoming chamber business expo event. Pinpoint member businesses that would benefit from regularly gifting clients with your chocolate products. You can join your local chamber through the U.S. Chamber of Commerce (see Resources).

Khan

Monstars








Posts

: 348


Join date

: 2016-02-21


Age

: 22


Location

: Gwadar
--Mood-- :



---
Permissions in this forum:
You
cannot
reply to topics in this forum