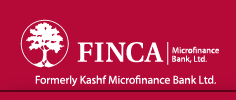 Mohammad Mudassar Aqil – CEO
Mudassar Aqil is a banking industry veteran with 14 years of experience in banking Operations, Strategy, Analytics, Marketing, Quality Assurance and Human Resource in local as well as international banks. Mudassar has been with FINCA* Microfinance Bank Limited since August 2011 as President & Chief Executive Officer. Prior to joining FINCA*, Mudassar was with Bank ALFALAH for 5 years as General Manager and was a member of the Central Management Committee. During this period apart from overseeing the Product Development, Quality Assurance and Human Resource function he led the successful launch of 3 new deposit products. Prior to that he served at M&T Bank – a Fortune 500 Company in the United States, for 8 years where as Vice President he held important positions in the areas of banking operations, analytics, Strategy and Marketing.
Mudassar is also a frequent presenter at various conferences and serves as a director on the board of Pakistan Microfinance Network. He holds an MBA from Salisbury University, Maryland".
Shahid Maqsood  - COO
Shahid Maqsood is the COO of FINCA Microfinance Bank Ltd. since 2014. In his role as the COO, he is also member of the bank's Management Board.
Shahid is a banking industry veteran with 20 years of experience in commercial banking both in Pakistan and in international markets. He has the ground experience to grow and sustain market share of the banking business. He also has multi-cultural & ethnic awareness as he worked with US based representatives to establish a microfinance bank in Pakistan, dealt with Bengalis, Afghans & Bahrainis. During his career he has been exposed and managing all the areas of banking (Treasury, Credits, Operations, Trade Finance, Finance, Risk Management & Human Capital).
He started his banking career with Union Bank in 1994 and over the years held senior positions at Kashf Foundation and Bank Alfalah Ltd. He is also known to have taken difficult assignments in his diverse career in banking. He completely reformed the Afghanistan operations of Bank Alfalah Ltd. from almost bottom low to the most efficient bank in the industry under very stressed environment. Most recently, he served for 4 years as Country Manager for Bank Alfalah Ltd. (Pakistan's 6th largest commercial bank) at Afghanistan and Bahrain.
Shahid has served as a Director of Afghan Bankers Association. He holds an MBA in Finance from Bahauddin Zakariya University, Multan, Pakistan and Diploma of Associates from Institute of Bankers Pakistan (DAIBP). He has attended various seminars/conferences/courses on banking and leadership in US, Dubai and Singapore.
Mobeen Yaqoob – Deputy CFO
Muhammad Mobeen Yaqoob is serving the bank since inception. He is overseeing Budgeting, financial projections, investor relations, financial reporting and financial analysis of the bank. Prior to FINCA* Microfinance Bank Ltd. he worked for MCB bank Ltd. (one of the largest commercial banks in Pakistan) and ABN AMRO Bank Pakistan Ltd. (formely Prime Commercial Bank Ltd.). With about 9 years of banking experience, he has 4 years non-banking experience with Descon Engineering and Amin Textile (Ayesha Group). Mobeen holds MBA (specialized in Banking & Finace) from PU and partly qualified CMA from ICMAP.
Farhan Haider – Head of Deposits
Farhan Haider has more than 17 years of hard core diversified banking experience in Commercial, Corporate, SME & Microfinance sector with special expertise in credit function; building and managing TEAMs both towards the lending as well as branch network.
Born, raised & worked in Lahore with reputable organizations of local private, commercial & foreign banks of the sector.
Muhammad Qaiser, Head Business Banking – Assets
Qaiser brings over a decade working experience in microfinance industry with internationally reputed organizations. He started his career at gross root level, successfully performed different roles like credit officer, branch manager, area manager, regional manager and finally attained head office management position. Mr. Qaiser possesses multi-disciplinary, multi-cultural and multi-institutional knowledge with strengths like art of working closely with rural / urban segment of the society, grip on individual and group based lending model, knowledge of social sector, implementing efficiency measures, in-depth understanding of effective communication and ability to travel extensively in operational areas. He completed Master of arts in Sociology and also done post graduate diploma in Development Support Communication from University of the Punjab Lahore.
Noshina Bukhari – Head Operations & Banking Services
An experienced Banker, who started her career as a management trainee, has 10 years of services in commercial Banking and associated with Microfinance Banking since 2008. She has experience in branch Banking operations, trade finance and SME financing. Worked at different branch managerial positions at Union Bank Limited, Askari Commercial Bank and Prime Commercial Bank . She has also worked as a main trainer and director management trainee program at Prime Commercial Bank Limited. She has developed and implemented the Banking operational policies and procedure, internal control processes and played the core role in implementation of the Banking software at Kashf Microfinance Bank Limited. She is also developing quality assurance systems at FINCA* while also looking after the liability side as an additional responsibility.
Her educational qualification is Masters in public administration from Quaid-e-Azam University, Islamabad.
 
Mahmood Shamsher Ali – Head HR & Training
Mahmood Shamsher Ali is a graduate of the University of Southern Queensland Australia and has completed Executive MBA from Lahore University of Management Sciences. His career spans nearly 10 years with experience of teaching, training, and developing systems for Human Resources in a wide range of industries. He specializes in training, and has spent over 5 years training professionals from all walks of life and from grass root development sector activists to senior management.
Mahmood is an internationally certified trainer and has trained in Asia and Africa for Microfinance. He comes to FINCA* Microfinance Bank from Kashf Foundation where he was a part of the senior management team for the last three years.
 
Nuvin Jatala – Head IS
Nuvin Jatala is the Head of IT at FINCA* Microfinance Bank Limited. She joined FINCA* in November 2007 and led the setup and implementation of the bank's information and communication infrastructure as well as the core banking system. She was also responsible for assembling the IT team and develop requisite policy/procedures. In addition to managing the IT operations, she is also overseeing the implementation of technology-based channels for the bank, which involves deployment and maintenance of ATM's at all branches, and other such initiatives.
Prior to joining FINCA*, she had implemented and managed the IT systems (ERP) and infrastructure of City Schools Private Limited from 2004-2007. Her initial work experience comprises of software project management and re-engineering at two software service providers. Her total career span is now more than 13 years. She holds a Bachelor of Engineering in Computer Systems from N.E.D University of Engineering & Technology, Karachi and Masters in Computer Science from SZABIST, Karachi.
Ommara Raza Ali – Head Research & Product Development
Ms. Ommara Raza is a development economist having over a decade of diversified experience of both microfinance and commercial banking. Presently, working as Head Market Research, Product Development and Gender, at FINCA* Microfinance Bank Limited she has expertise of Consumer Banking, SME lending, Corporate lending along with a vast research experience in which she has carried out over 40 research projects which includes research projects on savings products and services for microfinance clients, micro lending products, rural microfinance sector, remittances, consumer insight, customer care/ service quality, business climate, exit clients and area research (branch feasibility and operational planning). She has also worked closely with Women's World Banking- USA, Nielsen, Xavor-USA based consultancy agency and Shore bank International while carrying out some of the above mentioned research projects. She has received various awards which include President's Performance award in Home Finance and State Bank of Pakistan's award for research on Challenges and Opportunities of Microfinance.
Ms. Ommara has also represented FINCA* Microfinance Bank Limited at various international and domestic forums. She has also participated in various international and national level courses and trainings which include "Risk Management Excellence in Microfinance" in Luxemburg, exposure visit to develop an in depth understanding of Bangladesh's microfinance sector, Market Research for Better Decision Making by Dan Healy, "Gender Training Workshop" by Ms. Shazreh Hussain, Management training at a commercial bank, Leadership Training for key Managers and SME Lenders training by Shore bank International.
Numan Ali Amjad – Head Internal Audit
A finance & audit professional with more than 10 years experience in statutory and internal audits, internal control assessments, risk based auditing, SOX compliance, COSO based auditing, management consultancy, due diligence assignments and tax advisory in Big 4 firms and financial institutions. Worked with Ernst & Young as Audit Senior (4.25 years), Soneri Bank Ltd as audit officer (1 year), and Innovative Investment Bank Ltd as Head of Internal Audit (1 year). Working with FINCA* Microfinance Bank since April 2009 as Head of Internal Audit.
Educational qualifications are CA, ACCA, M.Com and DAIBP (Banking Diploma)".
*Please note that the persons indicated joined the Bank when it was known as KMBL

plhr60

Monstars








Posts

: 536


Join date

: 2011-10-20


Age

: 28
--Mood-- :

Character sheet
Experience:


(33/500)



---
Permissions in this forum:
You
cannot
reply to topics in this forum